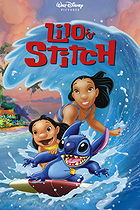 Posted : 9 years, 4 months ago on 22 September 2013 06:16 (A review of
Lilo & Stitch
)
I'm starting to notice that some of my favorite Disney movies are the ones that don't really act like Disney movies. I love the classics like "Aladdin", "Alice in Wonderland", and "Beauty and the Beast". However, I prefer films like "The Hunchback of Notre Dame" that really try taking risks and showcasing ideas that are pushing the boundaries of what you can get away with in a Disney film. While "Lilo & Stitch" is not as dark and risky as "Hunchback", it still does things in its design, soundtrack, atmosphere, and story that you don't even see in films from the other Disney classics. For example, the movie takes place in Hawaii where they advantage of the tropical setting with the use of watercolor which hasn't been used in a Disney film since "Dumbo". I think the animation is superb as you'd expect from a Disney film but the interesting thing about its animation is its character designs. While the aliens have designs that resemble Disney characters, the Hawaiians look completely different from the way Disney usually do human characters. Someone brought an interesting theory as why explaining that the movie begins with the aliens and we are later introduced to the human world, making seem like it is the space creatures that are normal and the human characters are the aliens which is an interesting idea. Speaking of interesting ideas, the story really does some interesting dramatic ideas in their story. Like many Disney protagonists, Lilo's parents are deceased but this movie does something interesting by showing her older sister being abruptly forced into being a parent. She tries to take care of Lilo but it becomes very difficult dealing a social worker who believes she isn't able to take care of Lilo despite trying really hard to. What other Disney film deals with social workers and trying to raise your younger sister after your parents passed away? Lilo is also a unique child character. She's weird and quirky who can't make friends but really tries being nice to everyone. She really does acts like a real girl that is capable of being really nice and really strange. The soundtrack is different from other Disney films because of the Hawaiian setting there is some Hawaiian-inspired music that goes well with the atmosphere of the film. Also, due to Lilo's obsession with Elvis Presley, there are also a lot of moments that feature music from the King of Rock as well as some less impressive covers during the credits. This movie that I really loved as a kid, I remember watching those funny teasers where Stitch basically ruins the most memorable scenes from the Disney Renaissance. This is one of my favorite Disney movies growing up and it still is. I like the story, the characters, the animation, the soundtrack, and overall heart and themes that are placed in it. Despite being a sort of unique wild child compared to other Disney films, it manages to be just as amazing as the other Disney classics.

0 comments,
Reply to this entry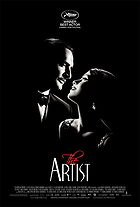 Posted : 9 years, 4 months ago on 21 September 2013 12:26 (A review of
The Artist
)
This is the first mainstream silent film to come out in nearly 40 years since "Mel Brook's Silent Movie", which is ironic because that movie was about trying to make the first mainstream silent movie in 40 years. I felt that after watching his first endeavors as a director with the "OSS 117" films that it was appropriate to finish off this "Hazanavicius-a-thon" (?) with the first time viewing of his most recognized work to date. This guy has only three real films under his belt and I already think he has become one of my favorite new-coming directors. "The Artist" is definitely my favorite movie that he's done. It is a very great movie. This movie is actually sort of similar to another movie that I love, "Hugo", as both are movies that are about movies that you watch and appreciate the cinematic experience. While I personally like "Hugo" more and think it's a more original film, I still have to say that "The Artist" is just a wonderful movie that I think deserved Best Picture. As previously established with his "OSS 117" films, Michel Hazanavicius knows how to capture the field of an early era of time to the very best of modern abilities. With "OSS 117" he was able to perfectly capture the '60s, and with this film he is perfectly able to capture the '20s during the early age of cinema. The main focus of this movie was basically recounting a time when silent films were all the rage and a little thing called "talkies" came along and changed the world of cinema as we know it. "The Artist" is about a famous silent movie star who doesn't accept the new change of "talkies" and his career goes to hell because of it. This is a depressing idea that actually unfortunately happened to a lot of real-life silent movie stars who just couldn't make the transition. Despite the depressing concept, this is still a very enjoyable movie that acts as a really good tribute to old silent movies. "The Artist" really does take advantage of being a silent movie to tell its story with mostly no dialogue (not even many word cards) through body language and facial expressions. Jean Dujardin does an amazing performance as George Valentin who is not only becoming one of my favorite actors but definitely deserved to win Best Actor that year. Also, one of the best performances from a dog that I've seen in a long time that definitely deserved the Palm Dog Award (yes, that's a real award for dog actors). Overall, "The Artist" is a great movie that I'm glad I finally got the chance to experience.

0 comments,
Reply to this entry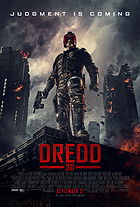 Posted : 9 years, 4 months ago on 14 September 2013 03:00 (A review of
Dredd
)
The new "Robocop" trailer really got me interested in the kind of satirized violence-ridden media, like "Robocop" and its inspiration "Judge Dredd". Not the really bad Sylvester Stallone vehicle, the gritty and gory comic books that satirized the violence and legal-actions of media. It deconstructs the kind of "Dirty Harry"-like action heroes who would take the law into their own hand and kill as many as they please. In the dystopian world of "Judge Dredd", that's how the law works. The first movie didn't get that at all, luckily "Dredd" was only able to faithfully portray its source material well to the cinematic treatment. It is also a very fun and gritty action movie. The movie manages to provide an interesting original story using the characters and setting from the comics. One thing that works for the film is that it's a pretty small film. It only takes place in one large building that holds a whole section of people. This is especially compared to the two biggest comic-book movies of that year which featured grand scenes featuring the heroes dealing with large threats like an alien invasion and the takeover of an entire city by criminals. Nothing against those great movies but after some such grand action and epic scale, it is definitely nice to see something on a much smaller scope. Dredd knows the kind of movie that it wants to be and it does it very well. Karl Urban perfectly portrays the simple yet interesting main character, Judge Dredd. JD is the kind of character that isn't prone to emotional development, which is why the addition of the rookie Anderson (played by Olivia Thirlby) works very well. Dredd does some very interesting things that makes it stand out. For example, it manages to use the tired cliché of "slow-motion action scenes" and makes it an important plot point. Dredd's visual style combines gritty survival with some trippy visuals that works without providing mood whiplash. It is a very gory film but the blood is intentionally ridiculous splatters, so it doesn't get disturbing or exploitative. Overall, Dredd is an enjoyable movie that captures the spirit of its comic book origin while providing enjoyably brutal action. It is a shame that this movie bombed in the box office as I am definitely enjoying this movie's cult audience who want to see a sequel to this film that explores more of these characters and setting. Even if we don't get a sequel, I think Dredd works a solo film that recommend you check out.

0 comments,
Reply to this entry